He was an artist and persevered through his blindness. He taught me to see with my hands and appreciate my vision. As I watched him make and work with tools, I knew I wanted to be an artist.
My career in Art began after undergraduate school (B.A. Communications Art, University of Mississippi) as a graphic designer. After a few years, our only tool became the computer. This made the work easier and more precise, however I began to have an "itch" to work with my hands again. I attended workshops in my spare time and found that I loved flameworking, or lampwork, which is creating unique glass beads by hand. By the year 2000 I was selling my beads online and at local festivals in Louisiana. An online customer from England sent me a present. She used one of my glass "beach hearts" as a focal bead for a beautiful intricate silver necklace. I was so impressed and intrigued, I wanted to find a jewelry class to learn Metalsmithing. I was accepted into Glassell School of Art in Houston, Texas in the Metals/Jewelry program taught by Sandie Zilker, and enameling by Jan Harrell. Recently I continued my art/metals education earning my Master of Fine Arts from University of North Texas in May 2018.
I currently show and sell my work at Salted Sanctuary Soap in Denton, Texas. I am honored to be a member of GAP and excited about being selected to participate and sell my work at the Main Street Festival in Grapevine, TX. Also, starting on June 8, 2019 I will be a featured artist at La Rose Maison Art Gallery on the square in Denton, Texas. There will be an Open House event on June 8 from 2-7 pm at 221 W Hickory St, Denton, TX 76201. Stop by to enjoy wine, music and art!
Fun Facts:
I am a native Texan born in Odessa. I have lived in many towns: El Paso, Lake Jackson, Houston, TX, Shreveport and Mandeville, LA, Oxford, MS, Memphis TN, and currently Denton, Texas. It's been quite a journey! I love music, dancing, cooking (on occasion), being grandmother to four great kids, and gardening. I also like to draw portraits.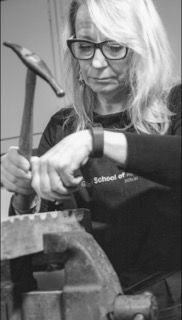 Facebook Page: https://www.facebook.com/mjmetalsmith
Website: http://www.maryjarvisdesigns.com/
Voyage Dallas: http://voyagedallas.com/interview/check-mary-jarviss-artwork/